Porcelain Veneers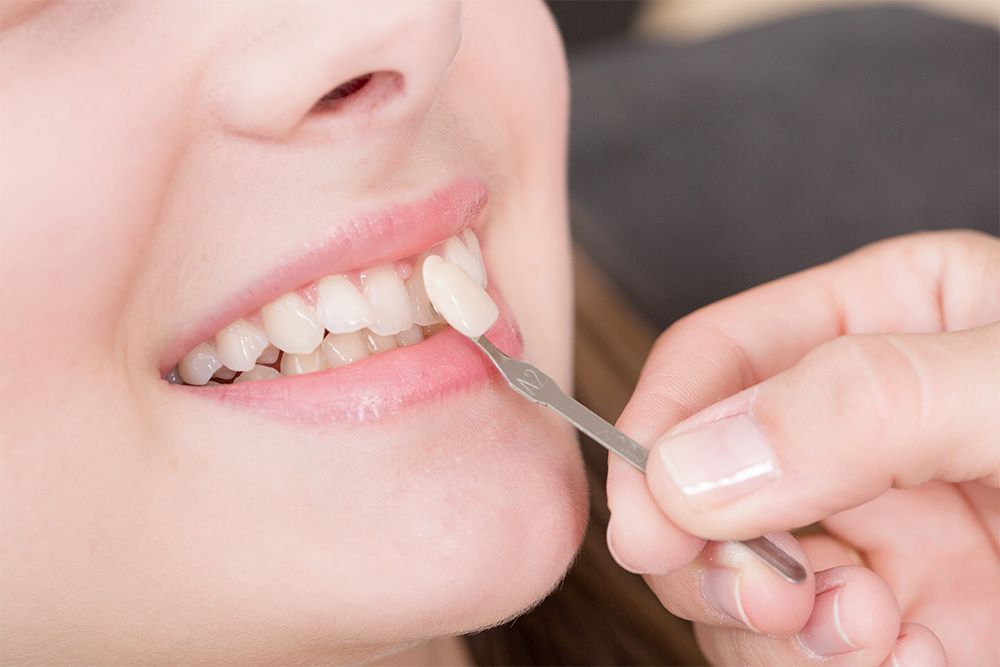 Porcelain veneers are arguably one of the most popular cosmetic dentistry solutions currently available. These thin, fingernail-like covers are applied to the outer enamel of the teeth where they work to cover any cosmetic imperfections and improve the overall appearance of the teeth. In doing so, porcelain veneers can transform any smile and give patients greater confidence to share their smiles with the world.
Porcelain veneers are unique to each patient and can be applied individually to address an issue with a single tooth, or in sets so that you can improve virtually any part of your smile. They can also be created in a variety of different shades, making it possible to match individual veneers to your natural teeth so that they look extremely discreet or, alternatively, so they can change the color of your entire smile.
WHAT COSMETIC ISSUES CAN BE CORRECTED USING PORCELAIN VENEERS?
Porcelain veneers have been shown to be extremely effective and successful in treating a variety of different cosmetic dentistry issues including:
Covering chips, cracks and other minor imperfections

Closing small gaps between the teeth

Adding thickness to teeth that are set back from the rest of the arch

Adding height to teeth that are undersized or have been eroded

Covering stains and discoloration
If you are unsure whether your cosmetic issues can be corrected using porcelain veneers, your dentist will be able to advise you.
WHAT IS THE PROCESS TO RECEIVE PORCELAIN VENEERS?
Porcelain veneers are applied in a two-step process that involves two visits to your dentist's office. During the first visit, impressions of your teeth will be taken and the shade that your porcelain veneers will be made in will be determined. This enables your veneers to be created in the perfect shape, size, and color to enhance the appearance of your teeth. When they are ready, you will make a second appointment.
At your return visit, your teeth will be prepared to receive the veneers. This process is done using local anesthetic as it involves filing down some of the natural enamel of your teeth. This is done to ensure that the veneer is a good fit and doesn't look unnaturally thick. Once prepared, your dentist will check the fit of each veneer before applying it to the tooth with adhesive. The adhesive is then hardened using a special light which bonds it permanently to the tooth structure. This part of the process is painless and once complete, requires no downtime so you can start using your teeth as normal right away.
WHAT ARE THE ADVANTAGES OF PORCELAIN VENEERS?
There are a number of advantages to choosing porcelain veneers for your smile transformation:
They can cover a multitude of cosmetic defects

They can improve the color of your teeth and make them look healthier, younger and more attractive

Porcelain veneers are highly stain resistant, enabling you to retain the appearance of your new smile for longer

The procedure to apply them is minimally invasive

The risk of complications associated with the procedure is very low

Porcelain veneers are very discreet

Veneers can add strength and durability to the teeth and protect the natural enamel

They are a great alternative for patients who are unable to bleach their teeth or who have been unable to achieve satisfactory results using bleaching
Porcelain veneers are an ideal way to address most minor cosmetic smile problems and your dentist will be delighted to give you more information about this popular solution.