3-D Imaging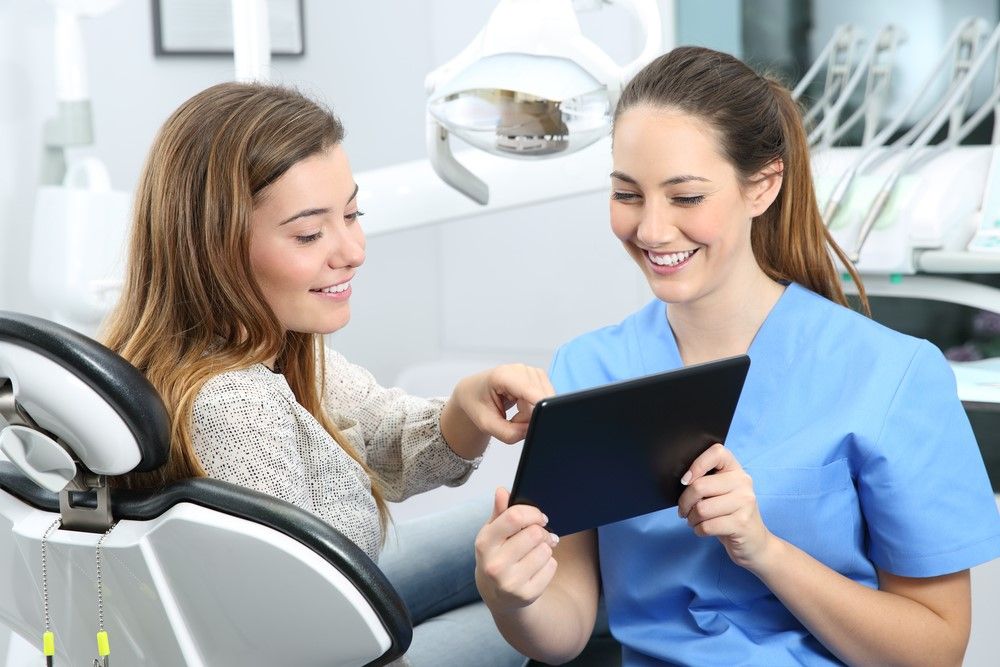 Patients who have been routinely visiting their dentist are all too familiar with the traditional X-ray imaging that is employed at most dental offices. However, there is a breakthrough technology that offers better imaging and improved patient outcomes.

How it Works
3-D imaging for your teeth uses a technology called CBCT or Cone Beam Computed Tomography. This technology uses targeted beam limitation which can reduce the exposure to radiation employed by typical X-ray imaging. It has improved accuracy and image quality over traditional images as well as better bone quality assessment. All of these factors help lead to a more complete picture for your dentist to base your treatment upon.
Main Advantages of 3-D Imaging
Utilizing this new technology results in several overall benefits for the patient and their care provider.

Ability to create hundreds of images from a single scan

Control over the quality of the image

Technology passes easily through the lips and gums.

The overall reduction in radiation exposure

Ability to zoom in on small areas on a single tooth or group of teeth.

How Technology is Used
Using 3-D imaging has been an overall improvement in several areas of dentistry, but is utilized in some areas more than others.
Cosmetic/Restorative Work – This type of work includes crowns, veneers, inlays and onlays, bone grafts, root canals, and implants. 3-D technology can improve this process by helping to prepare the patient and care provider for more advanced treatments. The dentist is then more capable of planning for these procedures with a better idea of any difficulties that they may encounter.

Orthodontic – 3-D imaging creates an overall image that helps to address any concerns ahead of treatment and can monitor overall progress.

Implants – This imaging is so accurate that it can help determine the correct location for the placement of dental implants as well as reduce the number of fittings to a single appointment.

The Future of Care
The benefits of 3-D imaging are quickly becoming apparent to dental offices everywhere. Many dentists can see the advantages of purchasing the machinery and are making sure that their patients have the highest level of care. If you are looking for the best imaging and care, ask your dentist today if they have the capabilities for 3-D imaging. If they don't, ask them if they expect to be gaining that ability in the future and discuss the benefits for your care.

3-D imaging allows you and your dentist to see your dental health in a way that you never thought possible. This approach enables your dentist to better view your teeth and skull as well as identify any problems earlier than previously possible. This allows for more improved and adequate care and treatment.

The CBCT machines also offer a non-invasive approach to imaging as there is no longer a need for bitewings or a plastic mold to be inserted into the mouth. This means that patients who previously would not tolerate X-ray imaging may be ideal candidates for 3-D imaging. Allowing for patients who previously wouldn't get imaging done or would get poor quality imaging is a huge gain for dentists in being able to care for a wider variety of people.

Additionally, a CBCT scan takes only about 10 seconds to complete. This reduces the overall imaging time and increases the information received, a win-win for everybody.

Overview
Whether you are a dental patient or a medical professional, the advantages of 3-D imaging are clear. When patients and their dentists have higher quality imaging, they can receive a more accurate picture of the procedures that they will require. Dentists can also now better predict the time and effort that it will take to complete many of these procedures in advance which allows them to schedule more effectively. 3-D imaging is truly the future of dentistry, but it's happening right now!